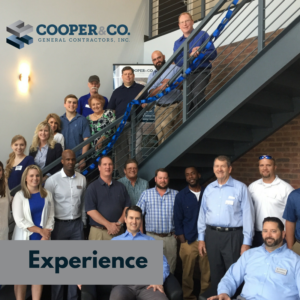 Many times, we meet with a project owner who isn't really sure what questions to ask us to truly qualify our experience.  In the public sector, there is typically a request for a proposal or quote that covers the basic groundwork of experience, firm history, and financial stability that helps them narrow down potential contractors.  However, when working with the private sector, they don't always have the same format for selecting contractors for their projects.  That is why we put together 5 questions that we wished every project owner would ask before selecting a general contractor for a future project.
1 – What is your company's experience?
Every company has a history and that history can tell you a lot about the general contractor.  Depending on how long the company has been in existence, you can garner some characteristics of the organization.  Since it is widely known that the construction industry suffered greatly during the "Great Recession", you can tell a company's resiliency and financial management strengths if they have been around for more than 15 years.  Organizations with 20 plus years of experience have managed to survive through both extremely good and extremely bad economic challenges.  That is not to say that a company that has only been in business for 5 years is not capable of handling your project, but understanding that experience of the key principals for a younger organization can give you a lot of information on their previous history prior to working with their current firm.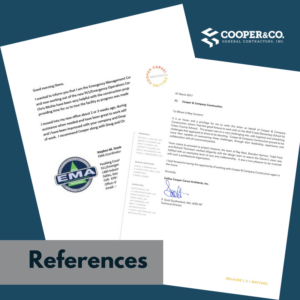 2 – Do you have References?
Every Business Owner loves good reviews.  Good GC's typically take that one step further and specifically ask for references from project owners and architects at the end of every project.  So, don't be afraid to ask a company for their references when considering them to manage the large amounts of money you are investing in your future. Any owner can not only ask for references from former project colleagues but can also inquire about references for projects that have a similar scope.
3 –  Can you tell me about the overall quality of your projects?
When someone asks a general contractor about the quality of their projects, they will usually tell you about awards or accolades they have received for projects throughout the years.  When a general contractor is recognized by its peers or other industry affiliations for doing an outstanding job on a project it includes things such as job site safety, overcoming challenges, excellent customer service, and thorough project management.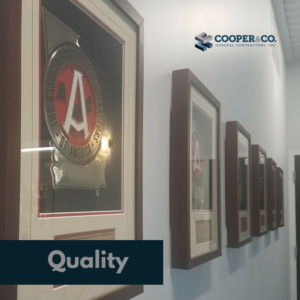 Don't overlook these awards!!  It takes quite a bit of precision to be great on all points.  However, just because a job didn't win an award doesn't mean it wasn't a quality project.  Many projects are just cut and dry jobs that provide a quality environment for its future occupants.  These projects may not include fancy designs or the latest green technology, but they include a sound structure that performs the requirements of the project in an effective manner without causing major headaches to the owner throughout the process.
4 –  What is your Safety Rating on Job sites?
Every licensed general contractor knows their safety rating and the level of safety they have on the job site.   Not having safe job sites can break a general contractor's business and is crucial to you as a business owner.  No one wants to deal with the nightmare of job site injuries from a public relations standpoint and no general contractor wants to be known for having worksite accidents.  However, they do happen.  Make sure you ask a potential contractor what their safety rating is and if they have had frequent accidents.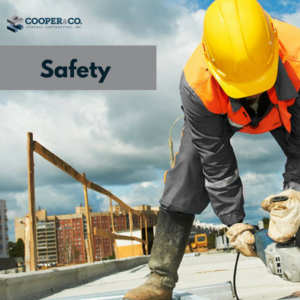 You may have a GC provide you with their Experience Modification Rate (EMR).  This number is used by insurance companies to gauge both past cost of injuries and future chances of risk. The lower the EMR of a business, the lower worker compensation insurance premiums will be for that business. An EMR of 1.0 is considered the industry average.  An EMR lower than 1 is great.
If a business has an EMR greater than 1.0 the reasons are simple. There has been a worker compensation claim that the insurance provider has paid. To mitigate the insurance company's risk, they raise the worker compensation premiums. The bad news is the increased EMR sticks with a business for 3 years.  So, don't be afraid to ask about the company's EMR.
5 –  Who makes you the most comfortable?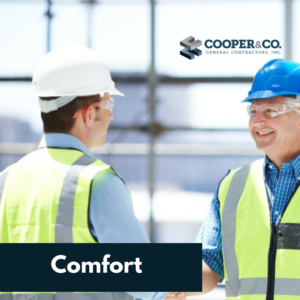 At the end of the process, the biggest question any owner can ask themselves is who makes them the most comfortable.  Everyone understands that money drives conversations and that lots of owners want to get to the lowest price.  Yet we caution anyone who places price ahead of what their gut is telling them.  If you meet with a GC and they give you the lowest price but the entire meeting feels combative, then consider that is what the next 6 months to multiple years could be like while working with this contractor.  We hope that no owner ever has that experience, but we have heard that said often by owners after a project.  So, while the price is important, place the value on the collaborative working relationship as well.
We understand that we will be working with this person closely for the next several months.  That is why we often place our own value on the initial meeting with a potential client as we move forward with the process.
Bonus Question – What did you miss?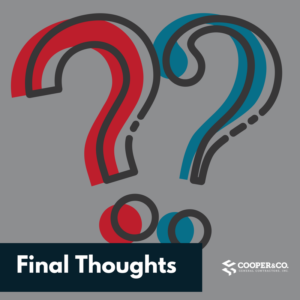 If you ever received a quote from a potential contractor that is significantly different than all the rest, then ask yourself if they missed something.  Most experienced general contractors are going to come in relatively close to each other in the bidding process unless they have a strategic advantage in a certain area.  Advantages include having job sites within close proximity, bundling services, or having the ability to do self-performed work among other things.  When a bid is significantly less than everyone else's it could be a warning sign that something was overlooked in the bidding process and that the price you receive is not going to match the final cost at the end of a project or that corners will be missed in order for the contractor to meet that number.
Final Thoughts
While this list is not all inclusive of every question that should be asked by owner's when selecting a contracting firm, it addresses some key areas of consideration for future endeavors.  We hope that it helps owners to understand a bit more about the in's and out's of how the industry operates so that they can make the best decision for their company.  We would be more than happy to answer questions about upcoming projects and the process to solicit bids.  Just reach out to us for more information.