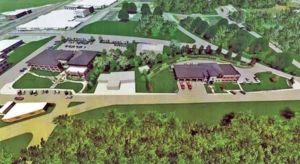 Cooper and Company is excited to announce the award for the new Cornelia City Hall and Municipal Complex. The contract is to construct two new buildings to house the new city hall and police department in addition to a new fire station on the existing City Hall and Fire Station property.  The new facility will be located along S. Main Street and Foreacre St in Cornelia, GA.  Architectural firm Jericho Design Group created a design that provides a renew breathe life and is consistent with the city's Urban Redevelopment Plan.
The new city hall and police facility will feature a 2-story, 25,175 SF facility will feature new amenities for both the city hall officials and the police department.  The new Fire Station #1 for Cornelia will also feature a 2-story, 16,876 SF space that will significantly upgrade the facilities for the men and women who serve the city.
The existing fire station and courtroom for the facility are close to 70 to 80 years old and have significant electrical and ADA issues that will be addressed by the new construction.  The existing city hall and police facilities were also built during the '50s and have reached the end of their life expectancy.   The new facility will provide upgraded services to both the employees and citizens of Cornelia.
At its first regular meeting of the New Year, held earlier this month, the Cornelia City Commission adopted a resolution approving its Urban Redevelopment Plan, which provides "an exciting opportunity to enhance the livability, economic opportunity and overall vitality of the city's traditional downtown and surrounding distressed neighborhoods," it states.  The new complex is a large part of the plan.
This project will be a transformational project for the downtown Cornelia area and Cooper is proud to be our strength in municipal construction to assist in part of the transition.
Project Scope Includes:
35,175 SF & 16,876 SF | Design – Bid – Build
Site Development & Improvements
2 Story Structures
Lighting
HVAC
Mechanical Systems Work
Fire Systems
New Parking
New Ground Up Construction
Architect: Jericho Design Group