Cooper & Company is excited and honored to announce our recognition as a 2019 Build Georgia Award Recipient. The Good Samaritan Health & Wellness Center in Jasper, Georgia received first place honors. The Gwinnett Fire Station #15 in Lawrenceville, Georgia received merit honors.
"It is always an honor to be recognized as a Build Georgia Award recipient.  We are humbled when our team's efforts to go above and beyond for our clients and are recognized by our peers" stated Company Principal and Vice President Jim Cooper.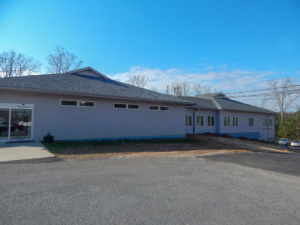 The Good Samaritan expansion project started over 14 years ago, and the clinic was operating for several years in mobile units waiting for the right mix of infrastructure and development to build the permanent facility. The Good Samaritan not-for-profit health and wellness center provides approximately 3000 residents in the greater Jasper community. The 14,516 sf addition is next to the excising operated medical facility. Cooper & Company faced many challenges but their top priority was to maintain a safe and operational environment for the staff and patients.
Some solutions to those problems came through working with the owner and community to help provide direction in getting donated support. Instead of using the facilities funds for landscaping on the project, Cooper worked with local gardeners for suggestions on creating a community project to create planter boxes, shrubs, and trees along the exterior of the project. The cost savings from these items allowed the center to allocate money for new medical equipment.
 The site for Gwinnett Fire Station #15 is located on the busy Highway 124 corridor, making delivery of materials difficult, particularly given the requirement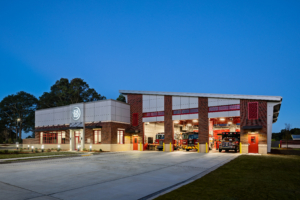 to complete the build in less than a year. The site of a former gas station, the soils were unsuitable and had petroleum contamination, so creating a safe work environment was critical.
Once our team realized how bad the diesel contamination was in the soils, we quickly suggested that the owner utilize concrete pipes in place of the HDPE for underground systems to prevent breakdown of the plastic material over time. In addition, we suggested utilizing a colored concrete with Tung oil for the floor in the truck bays. Each of these innovations were suggested to reduce the cost of maintenance over time and save time.
Even though the project endured 100 days of weather delays, Cooper & Company overcame the challenges. The team was a problem solver during the tough site condition work and completed the project on time.
Cooper was blessed to have the opportunity to partner with the architectural firm of Lyman Davidson Dooley, Inc on the Good Samaritan project.  In addition, design firm Precision Planning, Inc provided services for Gwinnett Fire Station #15.
Jim Cooper will be on hand at the annual Associated General Contractors of Georgia (AGC) conference in Hilton Head, SC to receive the awards bestowed to the company by their colleagues and peers.