Cooper & Company has successfully completed Phase 3 of 5 for the Lilburn Middle School addition and renovation work in Gwinnett County.  Cooper began the initial work back in March of 2017 with the anticipation of construction being able to take place during ongoing operation of the school by the students and staff of the facility during the year for the new additions.  However, the work completed over the summer was done in areas that needed to be completed when students and teachers were not in the building.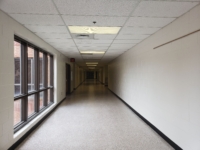 This Phase included the installation of 60 Water Source Heat Pumps above the existing building ceiling, 3 Rooftop Units, new cooling tower and pumps, new duct work, new TPO roofing on 2 buildings, acoustical ceilings, fire alarm system, paint, carpet, tile, and cabinets. Cooper completed this part of the project during the 8 weeks over summer while also continuing with the construction of the on-going new 3 story addition.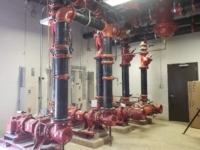 Lilburn Middle School expansion is necessary due to extensive growth of the student population.  This project includes a 3-story classroom addition, demolition of an existing building and modifications/renovations to the existing middle school. New administrative areas and 43 additional teaching units will be available during the school year 2019. Changes to the existing classroom and office space will add a second Band Room Suite, Guidance Suite and new General & Science Classrooms. This project will also provide new surfaces, plumbing, lighting, fire alarm and roofing when done.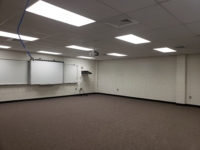 Cooper Project Manager for Lilburn Gary Goodman was really proud of the entire crews' accomplishments this summer.  "Phase 3 was completed with the distinction of being the first project of CGLS Architects' eight summer school projects to receive a Certificate of Occupancy."
Moving forward, Cooper expects the completion of the three-story addition to wrap up around November.  The team will continue to be on site through the coming winter and summer to complete further renovation work in existing areas as well as demolition of an external building.  Future plans also include adding a new courtyard and parking area.
Project Scope Includes:
120,000 + sf | Design – Bid – Build
Site Development & Improvements
Foundations
Structure
Lighting
HVAC
Mechanical Systems Work
New Parking
New Ground Up Construction